Welcome to Trinity Wonder Wiki!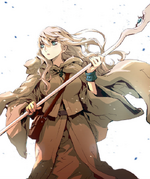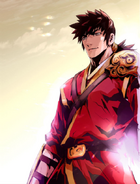 What happens when the greatest martial artist
of the Murim world meets a genius magician
from a fantasy world?

Welcome to Trinity Wonder Wiki
The fan-based wiki that anyone can edit

We have made 404 edits on 17 aticles,
with 112 files stored

Trinity Wonder is a collaborated Korean manwha written by Park Jin-Hwan (박진환) and illustrated by Jeon Geuk-Jin (전극진).
This wiki is dedicated to documenting all relevant information on Trinity Wonder and in connecting its fans into one community.
Please help by contributing more content to our article pages. Thank you very much and enjoy browsing!
---
---
Featured Article
Main article: Power Raver
Power Ravers are walker-type piloted machines or automated robots that are designed for specific jobs, such as armed combat or construction, although some can perform in a multi-role platform. They often appear as huge humanoid machines reminiscent of mechas.
In the futuristic modern world of Asadal, the Walden Group is known as a major manufacturer and operator of Power Ravers.
News and Announcements
Series On Hiatus
Trinity Wonder is currently on hiatus but it would resume on 18 March 2018 with the new Season 3. Meanwhile, please continue supporting the series and its creators. (Source)
General reminders
Always sign-in to your user account before contributing. A registered account is not required to browse or make edits but it would be better to have one. If you do not have an account yet, go register now.
Please check our internal policies and guidelines to know about the rules in this wiki.
Keep an eye out for polls, events, and nominations for featured article/image. We usually solicit comments and suggestions from our readers as posted in the news page, blogs, or Discussions.
Some pages are protected/locked from being edited by unauthorized users. To gain editing access, please message the wiki admins.
If you have any questions, just ask from the comments section under each article, or by posting at the blogs/Discussions, or by directly contacting the admins.
Affiliates
Series
---
Latest Chapter
Seasons
Season 1: Chapters 1-30 (Completed)
Season 2: Chapters 31-77 (Completed)
Season 3: Chapters 78+ (Planned for release)
Media
---
Synopsis
Trinity Wonder centers around three individuals from different parallel worlds: martial artist Gang Wu-Jin (Murim), mage Emily (Fantasy), and tech entrepreneur Sylvia Walden (futuristic Asadal).
Each of them have lived their lives without knowledge of the bigger universe until that (un)fateful moment when a wormhole brought Wujin and Emily into the modern present through Sylvia's experimental teleportation gate.
Chaos then ensues as the trio work together to uncover how to go back their respective worlds.
Read more on their adventures from Daum - the official web publisher of the series (Korean).
Featured Image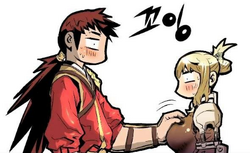 Wujin checking if Sylvia is a mere illusion. Thereafter, he became known as the pervert.
Daum

Foxtoon

KakaoPage

Lezhin

Naver

---